The Trip of a Lifetime
Come see firsthand how every cent of your sponsorship with ER International makes a difference!
 
Tres and Morgan Major have been sponsors of 7 year-old Keannie, a student in ER International's backpack program, for two years. Last spring they traveled to Roatán, Honduras to help with the backpack program and to meet Keannie for the first time. Morgan says it was an experience her whole family won't forget. "It was amazing to meet her, it brought us to tears."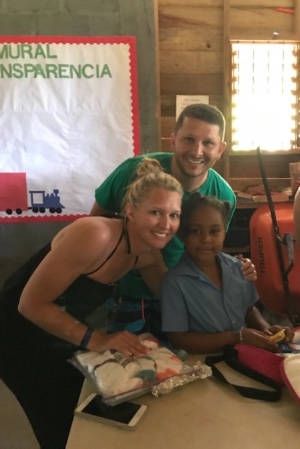 "We knew that every dime we gave would go toward impacting a family."
The Majors have sponsored children living around the world through other organizations for years. Some of their sponsorships have even lasted all the way through the child's graduation from the program. For them, they say it is the least they can do, and that being sponsors is a great way to teach their three teenage sons about paying it forward, and also a wonderful way to help others. When ER International founders, Ernie and Robyn Breaux, came up with the idea of the backpack program and started recruiting sponsors for students at Samuel Raymond Christian School (SRCS) in Roatán, Tres says it was an easy choice for his family to get involved because they knew ER International for their integrity. "When you give your money to organizations, sometimes a part of you wonders where exactly your money is going. But we've known Ernie and Robyn for over 20 years, we've seen them in action and we know their hearts, and we immediately decided to sponsor a child through the backpack program because we know that everything we give goes directly to our child."
Tres, Morgan, their sons, and a handful of families from Abundant Life Church in Denham, LA, where the couple work as youth pastors, were on a cruise that stopped in Roatán last year. The island is a popular spot for tourists, especially during the cruise ship season. Instead of doing an excursion on their stop, the group of about 15 instead planned to spend the day volunteering with ER International. They shopped for groceries for the backpacks, filled the backpacks with food, and met the students at SRCS.
The group agreed that the hands-on time spent with the students-meeting them, interacting with them, and playing games like foosball- was the highlight of the entire cruise. The trip was even more meaningful for the Major family because they were also able to meet Keannie. Morgan says she recognized Keannie right away from the sponsor packet she had received, and that it was a joy to spend time with her. "We brought her stickers and a coloring book, and she and I colored together. I have three boys, so that's why we had sponsored a little girl, and it meant a lot just being in that moment with her, because the vision that I'd always wanted to meet her had come true. It was so sweet and so precious."
One of the families from Abundant Life Church that was on the cruise with the Majors decided to sponsor a child after their visit to the school that day. Later this spring, they'll be traveling to Roatán again to spend time with their sponsored child. Morgan is also planning another trip to see Keannie and volunteer at the school around Easter time. She says ER International makes it easy for volunteers to have a good experience while in Roatán. "Robyn organized the whole eight hours of our group being there, and it was a top-notch firsthand experience. You can't fathom that kind of opportunity to really serve until you experience it."
Does this sound like the trip of a lifetime? A chance to really make a difference, and learn about another culture? ER International always welcomes sponsors or volunteers like the Majors who want to see the backpack program in action. English is widely spoken in Roatán, so getting around is easy for travelers, and the island has some of the most beautiful beaches and reefs in the world. Ernie and Robyn have lived here for years, and are happy to help volunteers plan their trip and find the best accommodations.
Keeping students in school and feeding families is their dream, and they will make sure that you as a volunteer have a positive experience while helping them bring it into reality.